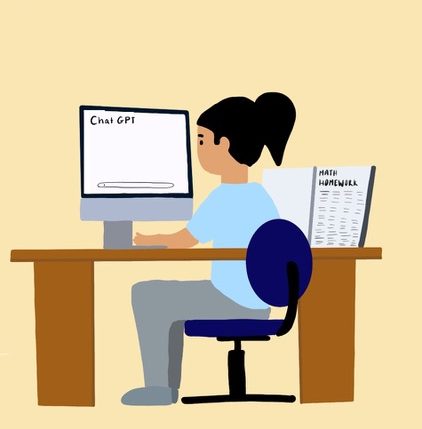 Chat-GPT has left teachers eyeing their red pens, unsure if they're grading students or processed algorithms. 
     Released on Nov. 30, 2022, Chat-GPT is a natural language  processing tool — technology that gives computers the ability to comprehend and manipulate human language —  driven by Artificial Intelligence (AI). It is updated every two  weeks, remaining at the forefront of all AI-powered language models such as Cohere, in 2023. But this rapid and constant improvement in technological advancements has left educators feeling unsettled.
     "There is a lot of panic around it," said American Studies teacher Mr. Dan Kim. "I know teachers and I are feeling skeptical, maybe even nervous about the implications."
     Ms. Rose Leonard, a Language Arts teacher, echoed these sentiments. She said, "I am worried. I'm nervous it's going to take away my students' ability to think."
     When Chat-GPT is a Google search away, not only are students' ability to critically think at risk, but the authenticity of their work is further questioned.
     "It's a tricky line to walk down, but because it is readily accessible, I know students may turn in unauthentic work if they are under pressure to provide an answer," said Language Arts teacher, Ms. Sheryl Morro.
     Ms. Morro points out a long-standing issue in academia: plagiarism. But teachers understand the root causes of this insincerity comes from factors deeper than a desire to deceive.
    "Let's be honest," said Ms. Leonard, "kids have been cheating before the internet, but one thing has remained the same – they cheat when they don't understand or lack confidence."
     To address this challenge, teachers agree they must be proactive to create  a supportive learning environment where students aren't AI dependent. Mr. Kim said, "We just have to continue giving clear directions to create full understanding and assign work that isn't so easily found on the internet for a bot to answer."
     In her classroom, Ms. Leonard said that communication is key.  "When my student is struggling, we can talk about it and figure out what we can do instead."
     Along with one-to-one communication, Ms. Leonard wants all students to understand that when used correctly, AI can be used to complement, not replace their educational experience. "The beauty of technology and AI is that it can be a springboard to start kids off on an already higher level of learning and then take them to limitless places," she said.
     Mr. Kim explained there practical ways students can use AI to their advantage. He said, "If a student were to use AI to generate a reference model for an essay, with the parameters given, similar to if a teacher were to give a former student's essay, that can be handy."
     Ms. Morro finds that when used correctly, the benefits of AI can extend beyond just academics. "I think there are a lot of positives. It can create creative solutions for helping people with everyday problems, or it can also be as simple as finding organizational ideas for resumes or putting ideas together for job applications," she said.
     Looking ahead, Ms. Morro believes there are positives to come. "In the future, we can expect more helpful outcomes as students, and people in general become adept at using AI for the betterment of society, rather than as a self-serving tool," she said. "I am hopeful–we should all be."