Pirate's Pick: Logan Snyder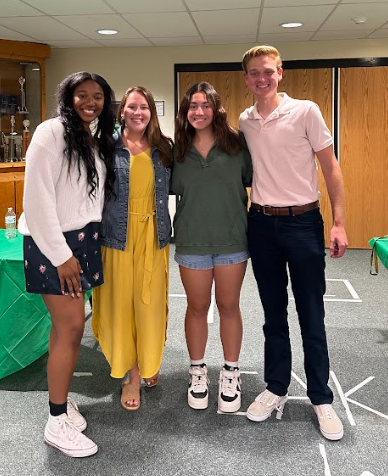 At the beginning of Logan Snyder's ('23) discus career, he learned to throw like any other young athlete. Over the years, he earned his way up to captain of the throwing team and has helped younger athletes improve their throw.
     Discus is a field event in track and field. Throwers have three attempts to throw the disc as far as they can. Depending on the type of competition, the farthest throwers can either win a medal or earn points for their team. Snyders' career personal best at Southwas 120 ft. He has been one of the most consistently competitive throwers for the team during his three-year career.
     Snyder's journey began at his father's side. "My dad did track in high school and he taught me how to throw the discus freshman year," he said. Snyder's freshman track and field season was cut short due to COVID-19, so the time he spent with his father was even more important for building the foundation for his high school discus career. 
     As we transitioned to in-person school again, Snyder was back on the field. Snyder quickly came back from the loss of his freshman year. "There's definitely been ups and downs," Snyder said. "I've had points in every season where I've plateaued and haven't been able to throw as well, but moving past that is something that has happened every season as well."
     Coach Kathleen Reilly, the head coach for throwing, said, "He's been really dedicated for the last 3 years. You could ask him the number of times that he's taken a rest day and they are very few and far between. He's very focused, he's passionate, and he really won't quit until he sees the results he's looking for." 
     This year, Snyder returned as an experienced senior with a new role: the captain. Coach Reilly said that he has stepped up in many ways from leading stretches to taking people under his wing.
     Teammate Ashley Emerah ('23) said of Snyder, "He gave us a sense of structure in how to get things done, and he gave us a lot of tips on how to get better individually but also as a team."
     Track may be a more individual sport, especially for discus throwers like Snyder, but that has not kept him from helping others. "It's been really nice to be able to be a mentor on the team," Snyder said. "I love to teach other people how to throw too, and I've done a lot of that. Even last year, I took a little bit of that role in terms of teaching kids discus form because that's what I'm most versed in."
     Off the field, Snyder is known for his personality. Teammate Aidan Edwards ('26) said, "He's kind, funny, and always makes you laugh." 
     Coach Reilly added, "Anytime we're around him, he's always cracking jokes and trying to keep it light. "
     Snyder leaves his throwing career behind as he heads to college in the fall. Reflecting on Snyder's career, Edwards said, "He was a good captain and helped out the team. His influence is going to be remembered next year."