Research they'll remember forever: Environmental classes investigate the Arctic
     Reduce, reuse, recycle. South students have added another 'R' in the fight against climate  
change: research. 
     This January, for the first time, Dr. Danielle Bugge and Mr. Craig Wilson's Environmental Science classes had the opportunity to participate in two international research projects. 72 students throughout all grade levels examined the changing Arctic climate and explored ocean currents through the iHARP/Earthrise Greenland project organized by the National Science Foundation, and participated in the Float Your Boat program. 
   Environmental Science teacher Dr. Bugge said, "The goal of this project was to involve our students in current research and recognize that even as high school students located in New Jersey, they can participate in international, real time data collection and analysis."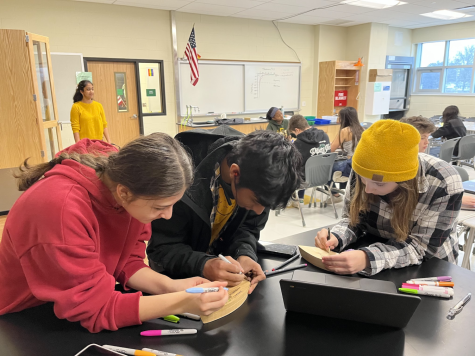 In the first project, students used Earthrise Education Software and its mapping features to examine Greenland ice sheets and glaciers. Students marked out indications of melting ice, such as potential cracks and lakes in the glaciers. These data points will be given to scientists and will help them determine where and when the glacier is  expected to melt. 
      "Being able to use computer programming to find the actual places in the Arctic that were melting and issues that we're having up there–it was a nice hands-on activity outside of the classroom and gave them experience," said Mr. Wilson. "This [program] wasn't created for a classroom, this was created for actual world interactions and they will use the work we did to make the computer program better."
    The second project focused on studying ocean currents in the Arctic ocean. "We partnered with an organization that was doing research on the currents and they wanted to see how climate change affects the speed of our ocean currents and in the Arctic," said Alyssa Yang ('23). 
    This organization, the Float Your Boat program, collects student-decorated boats, sends them into the Arctic ocean, and monitors the path they go on. "The scientists will be tracking the boats in a way that also tracks ocean currents," said Ananya Maddali ('25).
     According to the Float Your Boat website, the boats are transported via snowmobile to Utqiaġvik, Alaska and on April 4, 2023, the team released 396 decorated wooden boats two miles offshore.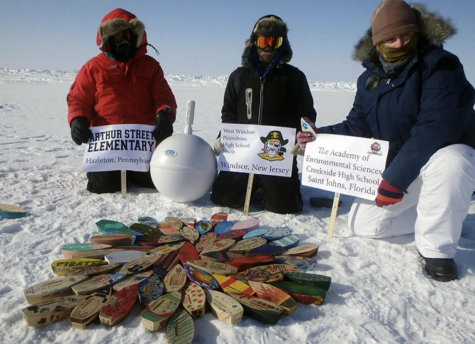 Wherever these boats end up next is up to the ever-changing current. "One of the best things was just imagining the fact that some dude from Greenland would be looking at the boats and thinking, 'Who's this guy?' 'What's this guy's name?'" said Vedant Nair ('23). 
     In addition to checking the website for updates on their boats, students talked to Sarah Johnson, environmental education specialist, to see its status.
     "When we talked to [Sarah], she told us that when our boats left [the snowmobile] everyone was really excited," said Nair. "That was the best part."
     Others agreed, looking forward to continuing this collaboration. "Hopefully this becomes something we can do every year and develop that relationship with the scientists," said Mr. Wilson.
         This experience allowed learning beyond textbooks. "There haven't really been many research opportunities in science classes," said Yang. "I really liked the way [this research project] was structured – every couple days we would focus on one individual fact and spend a couple days on that. The final project combined everything together, and we could see all the connections and how everything comes together to impact the environment as a whole." 
       Mr. Wilson agreed, saying "It makes it more real — as opposed to learning from a textbook, it makes it an experience. Maybe it'll take them down that field, into the science world. I hope it sparks that interest."
   Katherine Kelley ('25) said, "I learned a lot more about the world around us, it was very nice to get that through the projects."
    Students also gained valuable research skills. "All the skills we've gained with research – finding credible sources, making connections and compiling information – [are] just really important skills you will need later in high school and your career," said Yang. 
      Maddali said,  "My classmate and I were very excited to be able to add our touch to an international project. I'm going to remember this forever."