Behind the curtains: SAASA 2023
     On April 1, 2023, SAASA held its annual cultural production in the New Theater in which the 9-year-old club showcased South Asian arts as a part of a three-hour show. Family and community members from all over WW-P attended, and many offered congratulations in the weeks that followed. But what went on behind the scenes of this stunning program?
   This spectacular show showcased eight specialty dances, South Indian, Bharatanatyam, Hip Hop, Kathak, Girls Mix, All Guys, Bhangra, and Raas. These were complemented by acapella, a skit, a fashion show, a teacher dance and various class dances.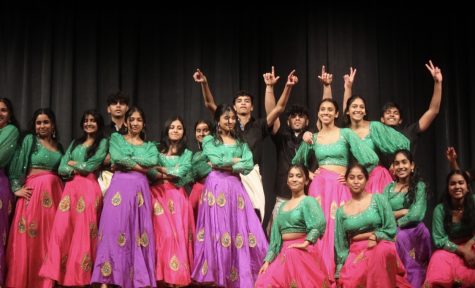 This year, SAASA was coordinated by advisor and language arts teacher Ms. Rose Leonard, along with 7 officers – Praagna Pydimarri, Shreya Tandon, Aarya Mandvilkar, Ankitha Radhakrishnan, Sohan Shah, Jaanvi Kumar, and Snehal Bhattacharya. Together, they worked on perfecting each part of the show for 5 months, from early November until the night before to put on the best possible performance for the audience.
    "In SAASA, the students work diligently to choreograph dance routines, choose songs for Sargam, the acapella group, and write an original one-act for the skit," said Ms. Leonard. "The MCs write and practice their bits, and the students dedicate hours to practicing all of their acts. This year, it was a 45-act variety show."
     Sohan Shah ('23) described the show as "phenomenal." Its success, however, did not come without challenges and hard work. Together, students had to choreograph, coordinate, and find costumes for each act, not to mention organize lighting and sound.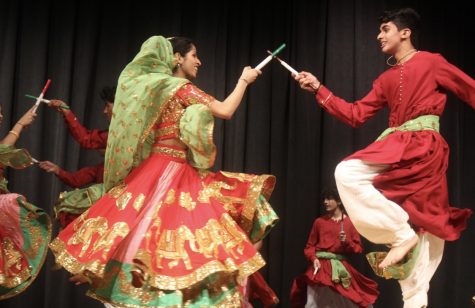 The journey started in October when tryouts, virtual and in-person, were held for the eight specialty dances, as well as Sargam. "I remember being nervous to try out since it was my first time doing anything like this, and I didn't really know the people there,"said Ilisha Prakash ('26).
     Even though some felt nervous,  when rosters were released in November, it was practice time. Rehearsals were typically held on Fridays, Saturdays, and Sundays. This meant that for members who were performing in multiple dances, their weekends could be spent practicing. Choreographers set up time to practice at someone's house, and practices usually ran  for one to two hours.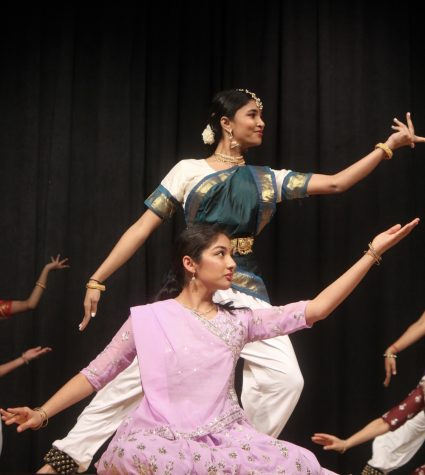 Surabhi Ponna ('25), who participated in six dances and choreographed two, said, "My Sundays were filled with SAASA, but it was so much fun because I got to spend time with all of my friends." 
     Although practices could take up a lot of time, the amount of time spent with members of the club also led to many new friendships. Jaanvi Kumar ('24) said, "Each dance I participated in allowed me to interact with new people, whether that be seniors, freshmen, or sophomores. There are vivid memories of different practices where a myriad of indelible memories would be created."
   Kumar continued, "My favorite part of the SAASA process would be the weekend practices where we get to teach and learn choreography, go out for food with the other dancers, travel from one house to another for different practices, and definitely the non-stop laughing."
     These eventful practices continued through late March, and after many late-night choreography sessions, Chipotle runs, and as Kumar said, "socks all over the place," tech week finally arrived.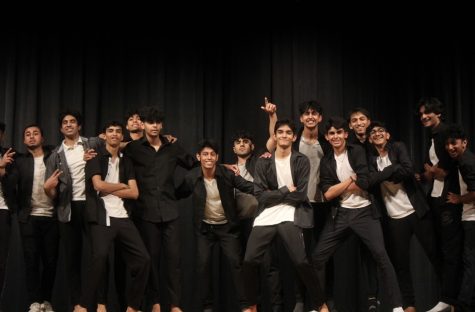 For SAASA, tech week is when the participants, along with Ms. Leonard, have to pull the show together. Many students had to balance running the show every day with sports and other clubs. "I had to split time between rehearsals and lacrosse practice, so I was pretty tired," said Beyla Shah ('26). 
     Sneha Banda ('26) said, "Since we hadn't ever run the whole show before, tech week was pretty chaotic, and the show did not look that great at first. But the officers worked hard and Ms. Leonard really helped everything come together before Saturday."
     On the day of the show, while performers were getting ready backstage, audience members arrived at around 1 p.m. for lunch. "We purchased and served 870 packaged meals and mango lassis [to the guests]. It is a huge undertaking. I frankly don't even know how the students did it all," said Ms. Leonard. "That mor=f students perform is just a great day."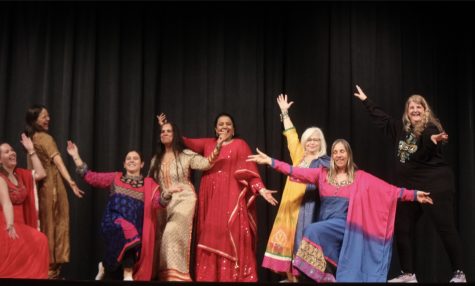 Performances started at 2 p.m., beginning with both the Indian and American national anthems. "[My] favorite part was the Indian National Anthem that Sargam sang," Ms. Leonard said. "The audience joined them. It was beautiful to hear and brought a few of us to tears!"
     The show went on, and although there were a few technical issues, talented MCs Joshua Midha and Nilesh Mohapatra came through and entertained the crowd.
      Dazzling costumes and captivating performances amazed the audience. Red, orange, yellow, green, blue and purple filled the stage as the show spotlighted the rich and vibrant culture of South Asia. Sophie Jing ('26) said, "Though I don't know much about South Asian culture, it was an outstanding performance, and I'm glad I went."
     When the show ended, performers, stage crew, MCs and skit writers came onto the stage and gave their final bows as the audience erupted into cheers. Shah ('23) said, "I still have a snapshot of the moment in my head."