The rise of Christopher Gero
Friday, December 16, 2022. The audience roared as they got ready to watch the Varsity Boys Basketball squad take on their crosstown rival, the Northern Knights.
The boys were ready for battle, but not as ready as new head coach Coach Christopher Gero, who took over for Coach Hussong following his resignation as the basketball coach last year.
In the five years that he has spent coaching basket- ball, Coach Gero has done it all: coach of the freshman team, coach of the junior varsity team, assistant coach of the varsity team. Now, he rises to the challenge as full time varsity coach.
It may seem like pressure, but Coach Gero feels none: "I am privileged to work with these kids every day and watch them grow and mature both on and off the court."
Coach Gero's recent promotion is beneficial for the basketball program because most of the current varsity players for the 2022-23 season have played under him before, including Shubham Bhayana ('23), Qunitis Crosland ('24), and Kai Hanson ('23). The team has full confidence in Coach Gero and the success he will bring.
"Coach Gero's a great coach, and I trust that he'll put our team in the best position to succeed," Hanson remarked. "Trust is the one fundamental quality when it comes to a successful team, and Coach Gero will help our team build that."
Trust proved victorious for Coach Gero and the varsity Pirates' Basketball team throughout the season, as they won crucial games, including a 60-53 win over Robbinsville, a 55-52 win over Hightstown , a 52-49 victory over Nottingham, with an average of 23.3 points from captain Ben Jaclin ('23).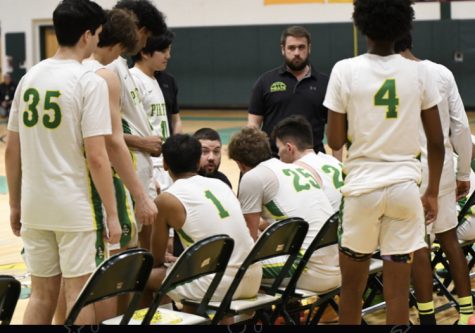 Impressive victories come with trust and team chemistry, not only between each player, but also with Coach Gero. Bhayana and Crosland can attest to their bond and trust in Coach Gero.
"Coach Gero has been helping me for three years, advising me in the right direction as a player. He is a great coach and person," said Bhayana.
"Having the same coach [all four years] has helped me develop a strong connection. There is trust, and he trusts my capabilities as a player, and I trust his coaching style and his strategies to help us win each game," says Crosland.
Christopher Gero is the
present and future of South Basketball