First Iron Man returns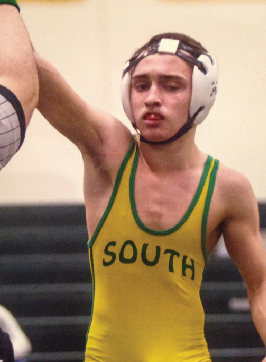 During his four years at South, Sean Thompson ('17) gathered over 100 wins in his wrestling career. He has now returned as the head wrestling coach.
     After the outbreak of COVID-19, the wrestling program shut down. This school year marks its second year back, and the program is already seeing drastic changes. 
     One of the most impactful additions is Coach Thompson. As a student, he was the first person to win the Iron Man award. The Iron Man award is given to wrestlers who have not missed a single day of training or matches. The 8 AM practices on Saturdays and two hour bus rides to meets require discipline and dedication. He continued his wrestling career at Gettysburg College, where reached over 165 career wins.
     After graduating college, he decided to work in WW-P, where he landed a job as a substitute teacher. He started off as a substitute teacher at Community, where he was also the head coach for wrestling. 
     When the position opened up for head coach at South, he jumped at the opportunity, ecstatic to return to the program. Coach Thompson said, "Back then, when I wrestled at South, we probably only had 10-12 kids wrestling on the team and we would forfeit at least 5 weight classes during a match."
     This year, wrestlers have been winning more matches. Against Highland Park, the team won by a score of 66-15.
     Coach Thompson said, "I am trying to improve the wrestling team by changing the culture   and reputation."
     This new culture has not gone unnoticed. Rocco Valentine ('23) said, "He's a good coach and I like that he was a former South student. The team has more wrestlers, and we won more team matches then we did last year."
     Coach Thompson said, "In the future, I hope to see more people try out for the sport and for South wrestling to make a name in the CVC."