Pirates' Pick: Sarah Yan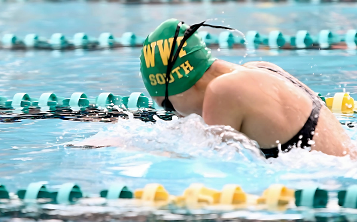 Ready to race, South's Sarah Yan ('23) takes a deep breath. "The adrenaline behind the blocks right before the race is something so unique," said Yan. When the starting gun sounds, she dives and begins gliding through the water.
     This is Yan's fourth and final season as a member of South's varsity swim team. As a senior, she placed first 32 times out of 40 races and has never placed outside of the top three. During her junior year, she placed first 27 times at meets. The higher a swimmer places in their event, the more points they earn for their team, and the team with the most points wins. An event is an individual swim race with a certain stroke and distance. Yan has participated in 10 different events this year and helped the team finish their season with a 9-2 record. 
     Teammate Nidhi Pramanik ('26) said of Yan, "She's always giving her best in practice and is a well rounded swimmer. You could put her in any event and she would always do amazing." Yan's best individual event this year is the 100m Breaststroke, where she has placed first 6 out of 7 times.
     "Sarah is a hard worker and constantly pushes herself during workouts and meets. She has great conversations with the coaches about her races and is always looking for ways to improve," said Jessica Bidwell, head swim coach.     
     Yan is well adapted to the rigorous lifestyle. Her swimming journey began when she was six. "It started as group lessons where I soon found it fun to race, and before I knew it, I was training with a competitive club swim team and going to the eastern zone time standard championships. After all these years of practicing six days a week and sometimes twice a day, the constant hard work has been a huge part of my life," said Yan.
     Outside the water, Yan spends a lot of time bonding with her team. "She's like an older sister to us. Sarah is really kind and relatable. I can talk to her about pretty much anything and she won't judge," said teammate Amanda Zou ('24). 
     To Yan, the people she surrounds herself with makes her swim experience unique. "Balancing school work and swimming is very hard, but my friends, teammates, and coaches make every painful 5 am or 9 pm practice worth it," said Yan.
     As she prepares to dive  into a new chapter of her life, Yan leaves behind an accomplished career.
     "Swimming for South has been an honor and the best experience I could have asked for on a high school sports team," said Yan.