Springing into China Night: The Year Of The Rabbit 🐇
With curious eyes and enthusiastic smiles, children at Plainsboro Public Library watched South's Chinese Culture Club (CCC) members demonstrate writing Chinese calligraphy and spinning a Chinese yo-yo. Last Jan. 29, the CCC held a showcase for the Lunar New Year celebration after a serendipitous email from Liz Palena, the Youth Services Librarian, asking about the possibility of having a mini-China Night at the library. 
     Ms. Palena is in charge of organizing programs for ages 0-18, and has been part of the library's effort to open up opportunities for high school clubs to  promote diversity and inclusion among its patrons. "We want to bring more club activity into the library to get teenagers more involved, but to also give them a space to do the things they want to do," said Ms. Palena.
     Elizabeth Li ('23), President of CCC, has been working to increase the outreach of China Night and replied to Ms. Palena's email with an eager yes. 
     This was a way for CCC to connect with the community and give a preview for the club's big event: China Night. The event, which started about 30 years ago, is a celebration of Chinese culture, while allowing students of Chinese descent to stay in touch with their roots.      
     This was even more important for China Night 2023, as it marked an important time for students who weren't able to travel overseas to visit their family during the pandemic. Xiying Fan ('23), Treasurer for CCC and Kung Fu performer said, "This is a way for Chinese students to connect to their culture thousands of miles away."
     Additionally, China Night 2023 saw a return to in-person practices, such as the traditional Chinese cuisine being served during the event. Prepackaged meals were available in chicken or vegetarian from Shanghai Bun, on Princeton Hightstown Road.  While enjoying the food, audience members were able to learn about calligraphy, knotting, and yo-yo as they explored a collection of student run booths.  "Booths are one of the more important aspects, if not one of the most important aspects, because it's the time when the audience has direct interactions with [Chinese culture]," said Arthur You ('23), Vice President of CCC. 
   "I think China Night is a great way to introduce others to Chinese culture," said audience member Anushri Dwivedi ('23). "It is great because it is very open to everyone who wants to appreciate the culture and let others know what it's about and share it."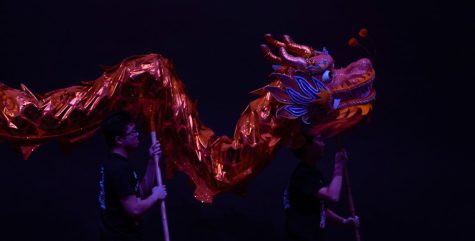 After dinner and the booths, attendees were ready for the climax of the night: the performances. This year's performance was particularly special because after a three year hiatus, the dragon dance graced the South stage, marking its grand return with a swish of tail.
    The show concluded with words of thanks from CCC advisors Ms. Vivian Yu and Ms. Jume Shen as the Playhouse thundered with applause from South and North students, parents, faculty and community members. 
     For Club President Elizabeth Li and Vice President You ('23), who have devoted themselves to the creation of South's annual celebration since the beginning of high school and participated in pre-pandemic China Night, the event is more than a single night of celebration; it is months of practice, and even more months of planning and preparation. 
     While the club officially begins in September, club leaders start feedback and planning immediately after the event, typically in early February.. 
     Working closely with peers throughout the school year has enabled members to forge strong relationships. "The club is like a friend group to me," said You. "While I don't spend all my time in Chinese club, I always feel welcome." 
        This is felt not only by club leaders or members, but by the audience too. China Night is more than an event. Vice President You said, "It's hard to describe something that you've done for a while, but it's just very symbolic."